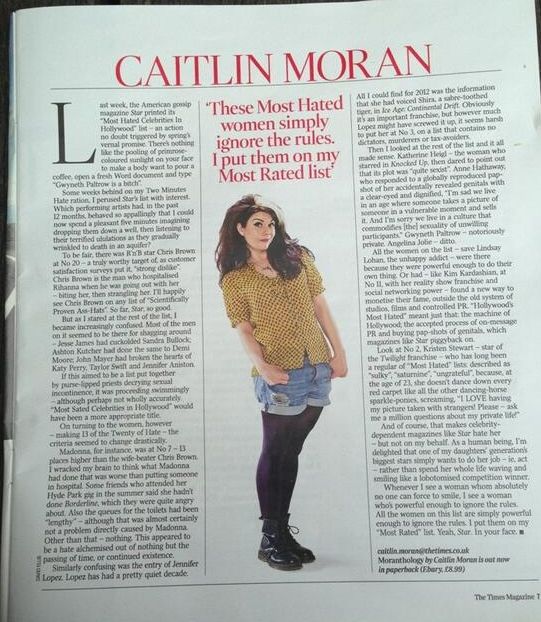 Mira el No 2, Kristen Stewart - estrella de la franquicia de Twilight - que ha sido durante mucho tiempo un habitual de las listas de "más odiado": se describe como "sulky", "melancólico", "ingrata", porque, a la edad de 23 años, no bailar por toda la alfombra roja como el resto de
los bailadores-caballos - chispa-ponies, gritando: "me encanta tener mi foto tomada con extraños! Por favor - pregunten un m
illón de preguntas sobre mi vida privada "!
Y por supuesto, eso hace que las revistas dependientes de celebridades como Star la odien - pero no en mi nombre. Como ser humano,
estoy encantada de que una de las mayores estrellas de la generación de mis hijas, simplemente quiera hacer su trabajo
- es decir, actuar - en lugar de gastar su vida entera saludando y sonriendo como el ganador del concurso lobotomía.
Cada vez que veo a una mujer que absolutamente nadie la puede obligar a sonreír, veo una mujer que es lo suficientemente potente como para hacer caso omiso de las reglas. Todas las mujeres de esta lista son simplemente lo suficientemente potente como para hacer caso omiso de las reglas. Las puse en mi lista "Más valoradas". Sí, Star. En tu cara.
Look at No 2, Kristen Stewart – star of the Twilight franchise – who has long been a regular of "Most Hated" lists: described as "sulky", "saturnine", "ungrateful", because, at the age of 23, she doesn't dance down every red carpet like all the other dancing-horse sparkle-ponies, screaming, "I LOVE having my picture taken with strangers! Please – ask me a million questions about my private life!"
And of course, that makes celebrity-dependent magazines like Star hate her – but not on my behalf. As a human being, I'm delighted that one of my daughters' generation's biggest stars simply wants to do her job – ie, act – rather than spend her whole life waving and smiling like a lobotomised competition winner.
Whenever I see a woman whom absolutely no one can force to smile, I see a woman who's powerful enough to ignore the rules. All the women on this list are simply powerful enough to ignore the rules. I put them on my "Most Rated" list. Yeah, Star. In your face.
Leer todo el artículo AQUÍ
caitlin.moran@thetimes.co.uk
Por Caitlin Moran