Kristen Stewart de Twilight se ha unido al elenco de Anesthesia del escritor y director Tim Blake Nelson en un pequeño papel. Estará filmando durante unos días en la indie, sobre un grupo de neoyorquinos cuyas vidas han sido tocadas por el mismo profesor de filosofía. La película se encuentra filmando en Nueva York. El ultimo trabajo como director de Nelson fue Leaves of Grass 2009, la cual también protagonizó y escribió. Stewart esta representada por
la Agencia Gersh.
Chloe Sevigny,James Franco,Whoopi Goldberg & Logan Marshall Green and is currently in production on the Tim Blake Nelson feature,Anesthesia.
Chloe Sevigny, James Franco, Whoopi Goldberg y Logan Marshall Green y se encuentran actualmente en la producción del característico film de Blake Nelson Tim, Anestesia.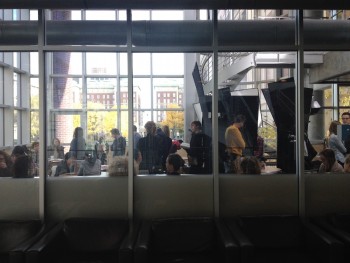 Prod Weekly información sobre "ANESTHESIA" Feature Film 08-22-13 
JOSH HETZLER PRODUCTIONS / ANESTHESIA PRODUCTIONS, INC.
info@joshhetzler.com
ESTADO: 3 Noviembre LOCALIZACIÓN: New York
PRODUCTORES: Josh Hetzler - Christopher Scott GUIONISTA/DIRECTOR: Tim Blake Nelson PM: Julie Buck
Un grupo de Neoyorquinos lidiando con diversas etapas de su vida y sus placeres concomitantes y tribulaciones son todos tocados de alguna manera por la amada filosofía del profesor Walter Zarrow. (3 Noviembre – 10 Diciembre)
Avistamientos
Stalking Kristen Stewart en nuestro comedor
Juro que esa es K Stew
Acabo de ver a Kristen Stewart en el campus! #Columbia
Te veo Columbia, cerrando nuestros comedores así Kristen Stewart puede rodar en ellos
*Anuncios de la película*
Estan buscando aun: Alguien tiene 2 perros de tamaño medio que quiera que aparezcan en dos pequeñas escenas en una película llamada "Anesthesia," con Kristen Stewart y Gretchen Mol, que será rodada en NYC en Noviembre y Diciembre de este año.
Vía LSR
Solamente Robsten