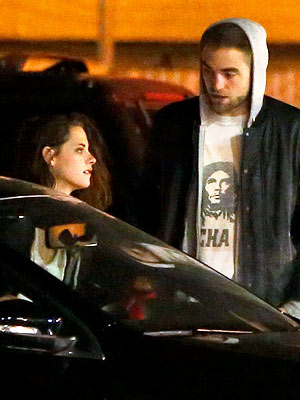 Robert Pattinson
(and about 40 friends) helped
Kristen Stewart
ring in her 23rd birthday on April 9 with a margarita-fueled dinner at Malo, a Mexican eatery in Silver Lake, Calif.
"They celebrated with Mexican food, beers and margaritas. Kristen was in a great mood," an onlooker says of the pair. "She and Rob seemed great too. They were a bit affectionate, but mostly mingled separately."
After dinner, the group – which included
Spring Breakers
star Ashley Benson – headed to No Vacancy at Hotel Juniper in Hollywood for drinks.
Stewart, who smiled "al
l night," says a source, adds that "she and Rob looked happy together. They seem to be back to normal."
Next stop for the couple: The Coachella Music Festival, for which Stewart has rented a house in nearly Palm Springs.
Español !
Robert Pattinson (y unos 40 amigos) ayudaron a celebrar el cumpleaños número 23 de Kristen Stewart, el 9 de abril con una margarita- cena en Malo, un restaurante mexicano en Silver Lake, California
"Celebraron con comida mexicana, cervezas y margaritas. Kristen estaba en un gran estado de ánimo", dice un espectador sobre la pareja. "Ella y Rob parecían estar geniales también. Ellos fueron un poco cariñosos, pero sobre todo se mezclaron por separado
".
Después de la cena, el grupo - que incluyo a la estrella de Spring Breakers Ashley Benson - se dirigieron a No Vacancy en el Hotel Juniper en Hollywood para algunos tragos.
Stewart, quien sonrió "toda la noche", dice una fuente, añade que "ella y Rob se veían felices juntos. Parecen estar de vuelta a la normalidad".
La siguiente parada de la pareja: el Festival de Música de Coachella, ya que Stewart ha alquilado una casa en cerca de Palm Springs
.
"En la semana hemos visto las fotos de Robert Pattinson y Kristen Stewart, celebrando su cumpleaños, pero ayer la pareja se fue a almorzar y disfrutar de la tarde juntos. Robert y Kristen se fueron a comer con unos amigos En Sushi en California, y de acuerdo a una fuente estaban de buen humor. Cuando terminaron, se fueron en el coche de Rob. El cumpleaños 23 años de Kristen se celebró con algunos amigos en los Angeles, y después de que el actor pasó algún tiempo de rodaje en Australia, ellos quieren pasar tiempo juntos e incluso participando en los MTV Movie Awards donde Kristen ha sido nominada a "Mejor Heroína" por Blanca Nieves, pero Rob no fue nominado en ninguna categoría este año, igual esperamos que esté ahí de apoyo a su chica. También voy a estar en los MTV Movie Awards esta semana, y voy a tener todos los detalles para este lunes ".