Fotos de fans y avistamientos en Coachella AQUI

Zip de Descarga AQUÍ
Gracias a RobstenDreams
Información gracias a PopSugar
Robert Pattinson
and
Kristen Stewart
were among the many
celebrities at Coachella
, which also included
Kate Bosworth
,
Leonardo DiCaprio
, Alessandra Ambrosio, and many more, yesterday. Following
their Thursday sushi date
in LA, Rob and Kristen got out of the city and went to the desert to link up with friends, including
Katy Perry
, for the evening of music. Rob and Kristen were photographed last night enjoying the Jurassic 5 show, drinking out of a shared Gatorade bottle, while talking with their friends.
Robert Pattinson y Kristen Stewart estuvieron entre las muchas celebridades en Coachella, que también incluyó a Kate Bosworth, Leonardo DiCaprio, Alessandra Ambrosio, y muchos más, ayer. Después de su cita En Sushi el jueves en Los Ángeles, Rob y Kristen salieron de la ciudad y se fueron al desierto para conectarse con amigos, entre ellos Katy Perry, para la noche de música. Rob y Kristen fueron fotografiados anoche disfrutando del espectáculo Jurassic 5, bebiendo de una botella de Gatorade, mientras hablaban con sus amigos.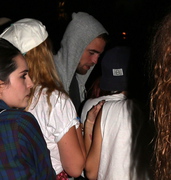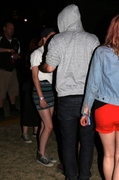 Relato Gracias a RobstenLegacy - Via
"O Robert e a Kristen estavam zoando de tudo, rindo de tudo. Sempre que os olhava eles estavam gargalhando de algo.Minha amiga falou para olhar o casal de Twilight, que estava perto de nós. Quando olhei o Robert estava puxando a Stew e cantando pra ela Não tirei fotos deles porque havia muitos fotógrafos ao redor e estava me sentindo mal por eles.O Robert a Kristen são os melhores amigos e casal de todos. Sempre que os olhava estavam rindo de algo, são adoráveis."
"Robert y Kristen estaban todos bromeando, riéndose de todo. Siempre los observaba se estaban riendo con un amigo o de algo. Mi amiga me dice para mirar a la pareja de Twilight , que estaba cerca de nosotros. Cuando miré Robert estaba tirando a Stew y cantando y no tomé fotos de ellos porque había muchos fotógrafos alrededor y me sentía mal por ellos. Robert y Kristen son los mejores amigos y pareja de todas. Cada vez que se miraban se reían de algo, son adorables ".
"Robert and Kristen, they were all joking, laughing at everything. Whenever they were looking, they were laughing for something. My friend said to me to look at the couple of Twilight, who was close to us. When I looked Robert was pulling Stew and singing I did not take pictures of them because there were many photographers around and I was feeling bad for them. Robert and Kristen are best friends and the best couple of all. Whenever watched they were laughing about something, are adorable. "
Fotos de fans y avistamientos en Coachella AQUI